Beginning September 14
Saturdays · Ages 3-5 at 12:00 PM - 1:00 PM · Ages 6-9 at 1:00 PM - 2:00 PM (Ballet/Jazz Combo) · Ages 10-17 at 2:00 PM - 3:00 PM (Ballet/Jazz Combo) · $90 for the entire 11-week workshop.
This season, join choreographer Iris Goode in her 11-week dance workshop for youth. Iris Goode has been a performing artist and instructor for over twenty years. She is the co-founder of Its Dance Performing Arts School in Queens, New York, founder of Iris' Academy of Musicals & Movement (I AM Movement) in Atlanta, Georgia, and the Goode Dance Project in Hampton, Virginia. This talented and experienced instructor will be bringing dance classes to the Thaddeus Hayes Dance Studio this season. Registration is required.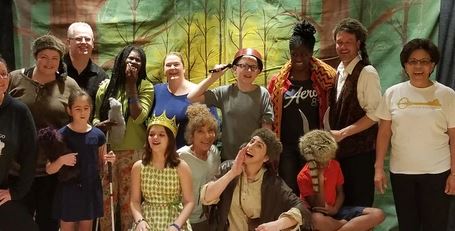 Beginning September 21 · Saturdays · 10:00 AM - 12:30 PM · Free · Visually Impaired Students Grades 5-12
Enroll in Dramatically Able II, a ten-week series of theater sensory workshops for students 5th-12th grade who are blind or visually impaired. Come and learn about theater, engage in dramatic activities, attend a live theatrical performance and be a part of a cast in a showcase of performance where you get to show your talents! For more details about the program and to register, please contact Lois Boyle: accessvirginia@gmail.com or 757-276-1761.
Beginning October 1 · Packages Available · Ages 13+
Take the "work" out of "workout by mixing low-intensity and high-intensity moves for an interval-style, calorie burning dance fitness party. Once the Latin and world rhythms take over, you'll see why Zumba® Fitness classes are often called exercise in disguise!
Morning Package

Tuesdays at 11:00 AM - 12:00 PM

Cost: $15

Dates Included: Oct. 1, 8, 15, 22, 29
Evening Package

Thursdays at 6:30 PM - 7:30 PM

Cost: $25

Dates Included: Oct. 3, 10, 17, 24, 31
November/December Dates Coming October 1!
Beginning October 2 · Wednesdays · 11:00 AM - 12:00 PM · Ages 1+ · Free · Space is limited and registration is required!
Enjoy quality time with your preschooler while learning the fundamentals of art through various techniques including painting and drawing. This class is also great for seniors who would like to participate in fun and simple arts and crafts. Registration is required and is available below.
More information about "Beginner's Acrylic Painting" and "Kids Do SmART Things" is coming soon!
Want to Instruct?
We are always looking for new and exciting classes to bring to Downing-Gross Cultural Arts Center! If you are interested in teaching a class, please fill out our program proposal form available through the button below!